Trump – The Last President of the End Times
2024 The Last Year of Trump
___________________________________________________________
___
---
(Update) In Sept 2023, it will be announced that Donald Trump has still won. In the month of Sept/Oct 2023 Donald Trump will be president of America again!
---
The President of America must be almost a superhuman. Someone who is strong, powerful, stable, gets along well with people and who is also a true Leader.
Who would have the best appearance. Joe Biden or Donald Trump?
For example, would Kim Jong Un be able to get along with Joe Biden?
Because of the Laser Mark 666, Mike Pence shall also step down. Joe Biden is not so stable anymore and Kamala Harris takes over and becomes President in the Valley of Armageddon.
This could very well be Harris, because no one comes close to her. Joe Biden does not make it because of his age, and Kamala Harris takes over the authority, the Presidency.
(Joe Biden will be 79 years old on Nov 20, 2021!)
The End Time is almost over and after that Armageddon begins!
The last generation began with the emergence of the State of Israel on May 14, 1948 and will end on April 13, 2022! That is exactly 73 years and 11 months.
The Rapture will take place three months after Armageddon has started.
See: The Last Generation – (May 14, 1948 until April 13, 2022)
But… then he is suddenly killed!
(From Aug 14, 2021 until Jan 14, 2022)
Brothers and sisters, the End Times is almost over. Time is running out!
Armageddon begins in Jan 2022.
Under the leadership of the Antichrist, Joe Biden and Kamala Harris take over the situation and the White House. That will happen in the first week of Feb 2022!
The Mark Sign/Logo (666) will be made mandatory almost immediately from Jan 20, 2022, after which Donald Trump will step down from office, because he is not going for the Mark 666.
See: Twice a Rapture
Could the number of Digital and Post Votes still affect President Donald Trump's ability to stay on? It seems impossible, because never before had the votes been so "fair". Yet Donald Trump will stay on, but how?
This is what I see:
But it will most likely be kept indoors first, because for the time being there are no reports. Only that Biden gets more and more votes with every recount, that is simply not possible. Where are all those votes coming from so late?
Never seen US Fraud

Michigan from 14:30

(Dec 2, 2020) – YouTube (46:07)
Anyhow, It will take a while before Donald Trump can be sure of his case.
Donald Trump will have exactly one more year to go as President of America.
(Update: From August 2021 to Jan 2022) Only 5 months left!
---
Brothers and sisters, this is what I see:
It is certain that Donald Trump is going for a second term, because many Prophecies confirm two terms! For the time being Joe Biden is still in a better position, but it will not be for long.
A program has been downloaded in about 26 states in order to make Joe Biden win. With this program you will most definitely never lose again! It is almost certain now that the Lord is dealing with someone responsible for this who will soon come forward as a Whistleblower.
Everything is invisible and very common. As usual, the results of the digital votes are announced first, and only after that the votes sent by post. If the digital votes are equal for both parties in all States of America, then the ballots must ultimately be decisive. But… whether that could influence the result is very doubtful.
But… in the original ballot papers a secret watermark has been incorporated which hardly anyone knows and which cannot be found or seen that easily, unless one is aware of exactly where that watermark is hidden in the ballot paper.
With these postal votes, which have arrived by post, a margin of error can indeed be found. For example, an unimaginable number of ballots were printed and sent. In total more than 60 million ballots with and without this watermark! But it cannot be said with certainty whether this shows enough fraud to allow Donald Trump to win.
What was fair is the digital voting. Or so I thought.
See the following:
The next image shows it a bit better.
REDPILL INCOMING — VOTE SWITCHING PROOF — SPREAD LIKE KAMALA!
See overview: When ballots are counted, the numbers may never decrease, and yet this is clearly visible in the numbers. About 26 States of America would have downloaded a program so that the profits would go to Joe Biden at all times. It is hardly visible.
Retired firefighter Mark Taylor says God showed him in 2011 that Donald Trump would become President of the United States.
Taylor's statements were made during an exclusive interview with Rick Wiles of TRUNEWS on Monday, April 18th, 2016, while sharing his prophetic visions publicly for the first time.
Taylor said he received God's word about Donald Trump on April 28th 2011, while watching an interview featuring the New York billionaire. While Trump was speaking Taylor heard the Lord say to him that he was listening to a President. At the time, Trump was considering a presidential run and was also campaigning strongly for the release of Barack Obama's birth certificate.
Though he ultimately decided against running for the GOP nomination in 2012, Taylor believes his appearance in the 2016 campaign was announced by God Himself.
___
The Republican Party was founded in 1854 and is also called the Grand Old Party. (GOP)
---
YouTube (50:32) from (41:04 – 46:36)
See text: "Most definitely, as a matter of fact that's why I voted for him."
This will be done before Christmas because it will be in the fall season.
Jesus: "I will not forget 9/11. I will not forget what took place that day…"
What a humiliation that will be. This will probably only happen on March 2021!
Live: Trump rally Pennsylvania Oct 31, 2020
US President Donald Trump speaks during a rally at Pittsburgh-Butler Regional Airport in Butler.
(Oct 18, 2020) – YouTube (2:35)
From (5:25 – 5:40) "Three Powerful Angels had be stationed to be to guard hem all the time!"
(Kim Clement) The Holy Spirit said about Donald Trump: "He Has HOT BLOOD."
---
The Lord's will revealed to Shruthika Priscilla | Uebert Angel
(India) Shruthika Priscilla speaks of her heavenly visits and visions related to America's elections, President Donald Trump is God's chosen one. The church must continue to pray, because the battle has just begun.
Robin and Robin Bullock
Will Biden become President of America?
The Democrats will rise, coinciding with the Antichrist being revealed!
A program downloaded in at least 26 states of America.
The first time this program could have been used was against Mitt Romney, to let Barak Obama win, because the two meetings he had with Mitt Romney were not too good. Without this program, Mitt Romney would have been the undisputed winner in 2012!
The fact that it was not used for Donald Trump the first time was simply because no one really believed he would win the election. It goes without saying that this program had to be used a second time so that Joe Biden would win, because in reality he would not stand a chance.
The fraud can only be found with this program.
This date must be seen from the moment that it can actually be demonstrated that Joe Biden could have won the election.
Donald Trump is the winner, even if he will only be President for exactly one year.
| | | |
| --- | --- | --- |
| Image 1 Biden wins | Image 2 Biden wins | Image 3 Edited – Trump wins |
(October is the month that the program should be installed everywhere)
A total of 7 States, and maybe as many as 8, will choose the winner with a big difference.
Donald Trump remains President, but will still have to resign before time because of the Laser Mark (666).
With images 1 and 2 Joe Biden still has 306 Electors behind him, but picture 3 shows a different image that without the Red October program, Donald Trump is the winner!
---

(Oct 13, 2020) –

YouTube

(

2:03

)
Joe Biden RALLY BL0WN AWAY by

Donald Trump

58,000

in PA.

(Nov 1, 2020) –

YouTube

(

2:03

)
---
BIDEN & HARRIS visit battleground state AZ – (Oct 8, 2020)
---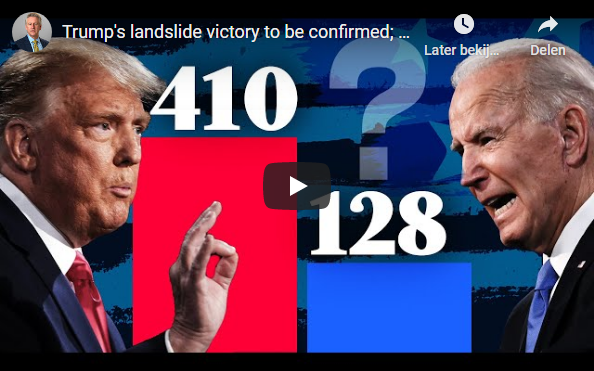 Trump's smashing victory will be confirmed on this day!
Never before, in American history, so many votes have been cast for a President, an absolute record!
But… the challenger has a lot more and that is very suspicious.
Many World Leaders do not believe this and take a wait and see approach to congratulate Biden.
---
Up to 300,000 fake people voted in Arizona election: Expert | NTD – (Nov 30, 2020)
He thinks there are between 120,000 and 306,000 fake people who voted in this election.  Piton presented his findings and said that he would never have certified Arizona's election results.
___
*) Bobby Piton is a managing partner of Pre-Active Investments, LLC and an investment advisor representative of Total Clarity Wealth Management. He used Arizona's official government data to run his analysis.
---
DC Trump Rally Nov 14, 2020
(Nov 16, 2020) – YouTube (0:47)
Chuck Pierce prophesied the night before the election that these elections will not be decided until Jan 18, 2021, two days before the inauguration. But… that will now be in March 2021.
President Trump the Anointed One – The David of God the Father
(Nov 2, 2020) – YouTube (4:22) Photo (3:05)
===*===
---
Text: New American Standard Bible (NASB) and the King James Bible
and completed by prophecies according to (John 16:13)
---
(DZG// Sunday Dec 6, 2020/ 23:10)
Source: _https://www.topbestalternatives.com/empire-earth-iii/android/
Source: _https://www.youtube.com/watch?v=4GyT_e01I4s
Source: _https://www.wizmnews.com/2020/10/06/after-trump-rally-called-off-in-la-crosse-mayor-kabat-still-not-ready-to-announce-seeking-reelection/
Source: _https://www.cnbc.com/2020/11/01/election-2020-live-updates-biden-in-pennsylvania-as-trump-barnstorms-the-country.html
Source: _https://religioninpublic.blog/2020/05/11/trump-the-anointed/
President Trump the Anointed One – The David of God the Father
Source: _http://www.allwhitebackground.com/american-flag-eagle-background.html/download/23540
===*===