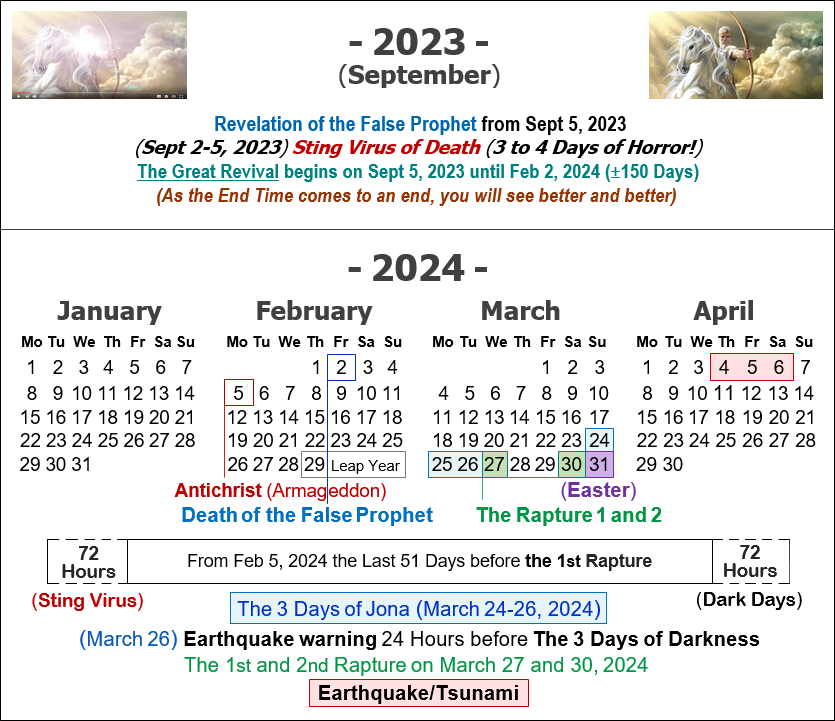 ___________________________________________________________
___
---
The Sting virus will most likely come first on one of the days before Dec 2021 or in the beginning of New Year 2022. That is what I think and only after that could the false Prophet arise. At the same time, the Holy Spirit will also come to stop the Sting virus. The Sting virus may not last 4 days, but at most 2 or 3 days! That's how terrible this Horror will be.
We then only have a few hours at most before the Sting virus will arrive in the Netherlands. This Horror is driven by the wind and will cause death and destruction like the humans have never experienced before. Prepare yourself! Stay at home and close the windows and doors and do not go outside!
See: 1st and 2nd Rapture! Twice a Rapture
On Feb 2, 2022, the end for the false Prophet and… the Holy Spirit!
The false Prophet is now taking a very long time. But that is just the way it is. It is now only a matter of days before he will reveal himself, because the time is almost up! According to the vision 'Fiche 59', the false Prophet has still to go until Wednesday, Feb 2, 2022!
That vision Chip 59 with two circles intertwined and the number 59 underneath was a fact not to be missed. It gives an image of the false Prophet and the Antichrist who will live separately from each other in the same body. The false Prophet first and only after his death, Satan the Antichrist.
I was able to calculate the End Time correctly with Chip 59. I'm holding on to this! The End Time has almost ended and has become so short that a shift in time can hardly be found. We know that Jesus can hold off an event until the very last day, but it is getting very exciting now, because the time is already up!
See details: (Prophecy: Sara Ayin) Earth – The Beastly Kingdom!
The Lord gave this to me on Saturday March 7, 2020 at 12:48 P.M.
These two judgments of God come before the Great Revival! The 8th and 9th trumpet. Only the 9th trumpet is the 4th woe! Most deaths will occur in the first 2 to 3 days, because people do not yet know what kind of deadly virus they are dealing with. The world will think that the Corona vaccine caused this new virus but it did not, it is a totally different new very deadly virus!
Prepare yourself for that moment! The Great Revival will last approximately 35 days and will end on Feb 2, 2022. Armageddon starts from Feb 5, 2022.
(Horror of Death – From Apr 13 to 16, 2022)
===*===
---
Text: New American Standard Bible (NASB) and the King James Bible
and completed by prophecies according to (John 16:13)
---
(DZG// Saturday 25-12-2021) – (Update: Jan 3, 2023)
Source: _https://pngtree.com/freebackground/new-corona-virus-blue-abstract-background_1174164.html
Source: _https://www.youtube.com/watch?v=JBijLdYXMFw
Source: _https://www.youtube.com/watch?v=HF0srEz31AE
Source: _http://www.cropcirclecenter.com/ccdata/2017/05/22/UK20170522_A.html
Source: _http://www.cropcirclecenter.com/ccdata/2017/05/22/UK20170522_A.html
Source: _http://www.goedbericht.nl/NT/Openbaring/11_getuigen.html
(Photo) _https://cdn.sacredgeometryshop.com/wp-content/uploads/2018/12/The-Vatican-Rome-Vesica-Piscis.jpg
Source: _https://www.sacredgeometryshop.com/sacred-geometry/vesica-piscis-sacred-geometry/
===*===