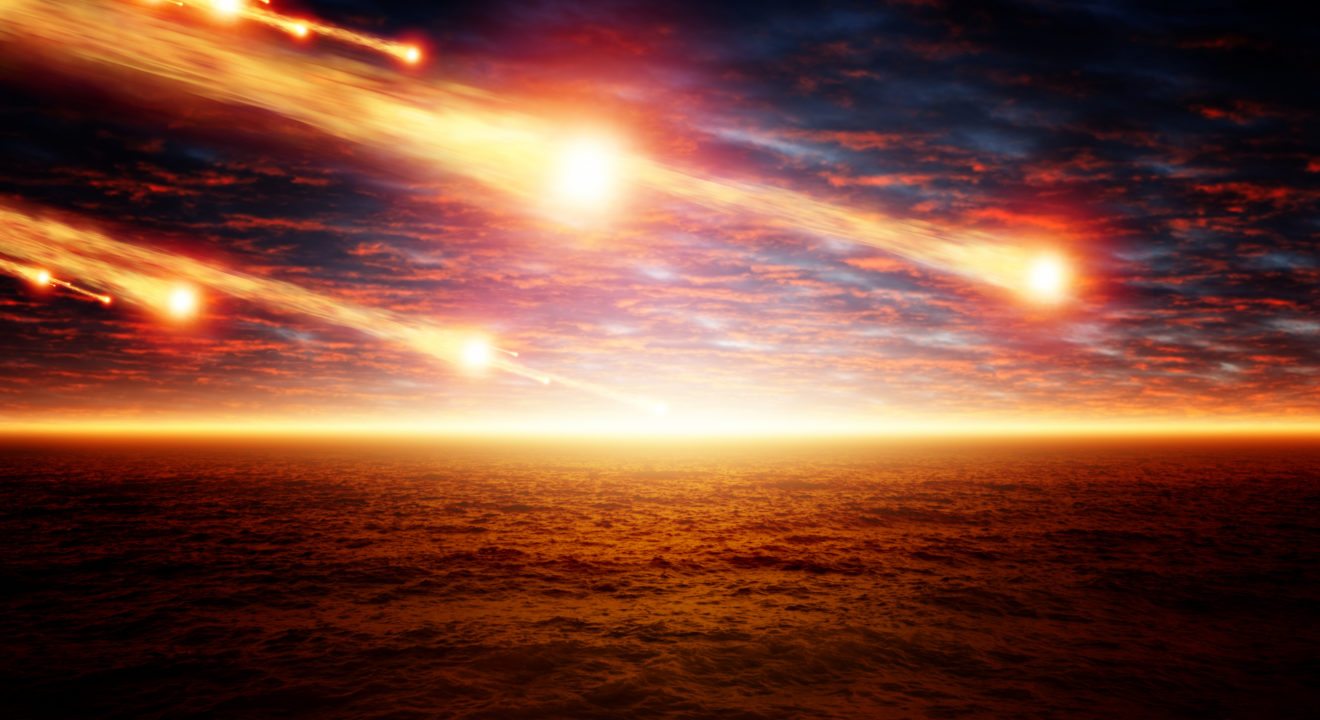 (Revelation 6:13) "…and the stars of the sky fell to the earth…"
The Rapture before January 21, 2019?
» This must be before March 31, 2024 «
___________________________________________________________
Update (Jan 25, 2023)
(Twice a Rapture! – March 27 and 30, 2024)
Easter March 31, 2024
April 2022/2023?
–
Wrong!
Rapture Expected in March 2024
(Times Approximate Adjusted)
___
---
Do not sell your house!
– The approaching Rapture –
People are considering selling their houses
But very many remain behind with the Rapture!
A house and a mortgage to be repaid
I was shocked with the idea that there might be Christians among you who might want to sell their house, this because of the approaching Rapture. That is why I have added this short report.
Make sure you are not going to sell your house just because the Rapture is about to take place soon.
Taking out a mortgage on a house does not have anything to do with this debt to be repaid when it refers to the approaching Rapture. Should you be included with the Rapture, then your house is insured at all times and the Bank can take over your house and resell it further. But… if in case, to your own great surprise, you should stay behind with the Rapture, then at least you have kept your house and complete contents. If not, you might find it very difficult in the Valley of Armageddon.*
*) See: (Matthew 22:14)
"For many are called, but few are chosen."
This verse has to do with the Rapture, because many – very many will stay behind!
---
The Rapture March 2024
Time goes faster than you think
The Lord let me know, twice on Thursday Dec 6, 2018 and then once again on Friday morning Dec 7, 2018 at 10:30 AM, to remove the former report "Second Coming Jesus before 21 jan.2019" and directly replace it with the "Second Coming of Jesus before April 17, 2022"
Brothers and sisters, the Rapture has been extended by 2 years and is expected in March 2024!
That means that the Rapture is already in sight.
---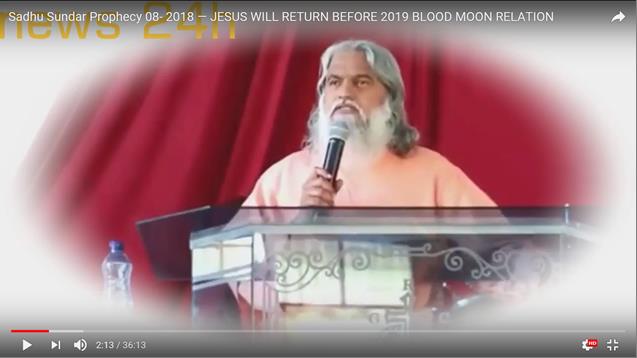 Sadhu Sundar Selvaraj Prophecy July 08, 2018 –
YouTube
(
36:13
)
"JESUS WILL RETURN BEFORE 2019 BLOOD MOON RELATION"
The return of Jesus before January 21, 2019
This must be before March 31, 2024
This video (short version) I saw first on Saturday, July 14, 2018. After listening to the sermon, I now had the confirmation that Jesus would return before Jan 21, 2019. At least that's what I thought. But, it's for March 31, 2024!
What I thought at first
There are Christians who think that the salutation is wrongly indicated. But that is not true. Many visions on YouTube end in the year 2018. In the sermon of Sadhu Sundar Selvaraj he did not say that Jesus will return with the Rapture before 2019. That is why many Christians think that the salutation should be changed because this is not in the sermon.
___
If the great Revival indeed had begun in Aug.2018 and the false Prophet was to rule for five months, then these two visions aug 2018 and five Fiches 59 would, in this case, have turned out well. But what I did not know was that the last Week of Daniel would begin as from August 23, 2018, and that the false Prophet shall nearly become 62 years, with one day to go. (Born February 5, 1962) In this case the two visions correspond exactly if the Rapture would take place on March 31, 2024. There are also exactly five months between them, hence.
The last Week of Daniel
But as we already know, the last Week of Daniel has started on Aug 23, 2018 and on Sept 5, 2023 the false Prophet will reveal himself. Then exactly five months later the false Prophet shall be killed and three days later the Antichrist, with a "Walk-in", takes over the body. That will be on Feb 5, 2024.
However, the Rapture will thereafter take 51 days. Then, three days before the Rapture, the world will be so badly disposed that the Lord said the following about it: "The last three days before the Rapture one can no longer know whether it is day or night."
The people will not dare to leave their house in those days.
See: The last three months – "Second Coming Jesus before May 16, 2022!"
---
However, this video report has to do with the fact that the Nations would agree to Gay Marriage and actually has nothing to do with the Rapture. But I was under the impression that the saying "Make your house in order" could have something to do with the Rapture, which in this case has a different meaning.
The following has remained virtually unchanged:
The sermon:
On
June 8, 2018
, Sadhu Sundar Selvaraj asked the Lord what he would speak that morning and Jesus spoke to the heart of this speaker:
Jesus:
"Make your house in order."
And the next thing Jesus said is: "…because I'm going to visit them."
Better translated by the speaker: "…I am going to come and visit them." – "Therefore, make your house in order."
This truth is not so easy to see. Jesus thus speaks of two particularities that may have to do with the Second Coming. "Make your house look good, because I am going to visit you."
It seems as if the Lord is talking about the Rapture, but that is not the case here.
The meaning "Make your house in order" has to do with the fact that when a Christian is taken to heaven, he will have exactly the same house as on Earth. That is why the Lord says: "Make your house in order."
Is your house however not properly cleaned or after the Rapture sloppily left behind, then in heaven your house will look just like that.
See example:
(Isaiah 38:1) "In those days Hezekiah became mortally ill. And Isaiah the prophet the son of Amoz came to him and said to him: Thus says the LORD: Set your house in order, for you shall die and not live."
Fifteen Years
(
Isaiah 38:2-5
) "Then Hezekiah turned his face to the wall and prayed to the LORD, [3] and said: Remember now, O LORD, I beseech You, how I have walked before You in truth and with a whole heart, and have done what is good in Your sight. And Hezekiah wept bitterly. [4] Then the word of the LORD came to Isaiah, saying: [5] Go and say to Hezekiah: Thus says the LORD, the God of your father David, I have heard your prayer, I have seen your tears;
behold, I will add fifteen years to your life
."
Although to King Hezekiah of Israel, after his plea to the Lord, another fifteen years had been added to his life, he then left his house clean and tidy.
===*===
---
All texts are from the James King and the New American Standard Bible (NASB)
and completed by prophecies according to (John 16:13)
---
Second coming Jesus before March 31, 2024!
End of the Time Feb 2024 –
Armageddon Feb 2024 to Sept 2025
(DZG// Wednesday Jan 2, 2019/ 16:03) – (Update: 25-01-2023)
Source: Photos, Images and Drawings
Revelation 6:13 "…and the stars of the sky fell to the earth…"
(Photo) _https://s24193.pcdn.co/wp-content/uploads/2016/09/novice-doomsday-preparation-1320×720.jpg
Source: _https://www.entitymag.com/everything-need-become-novice-doomsday-prepper/
House For Sale – Sold
(Photo) _https://media.brstatic.com/2017/03/31182913/sold-for-sale-sign-in-front-lawn-of-house_573x300.jpg
Source: _https://www.bankrate.com/finance/real-estate/sell-home-then-buy-another-or-do-both.aspx
Sadhu Sundar Selvaraj Prophecy 08- 2018
(JESUS WILL RETURN BEFORE 2019 BLOOD MOON RELATION)
Source: _https://www.youtube.com/watch?v=VjpK6W6lqkU
===*===