(English – Español)
---
– The Rapture 2021/2022 –
___________________________________________________________
Update (August 21, 2018)
"Second coming Jesus before February 4, 2022!"
___________________________________________________________
(The times have yet to be adjusted)
The Countdown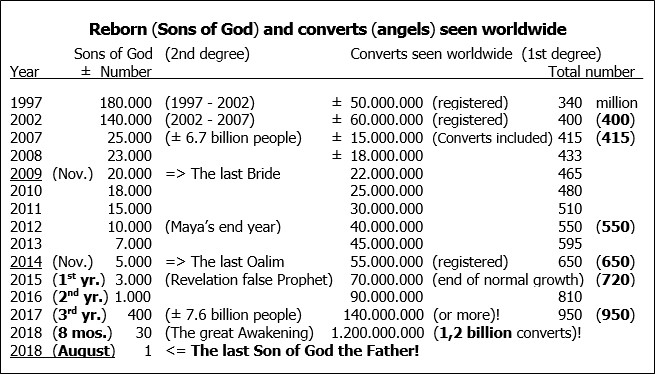 The waiting is now on the last Son of God the Father*
___
(Mystery of the winter and the Sabbath)
The following is quite remarkable
The Lord has given me with the End Time vision not only the year, but also the month! Just like that of the Bride and the Oalim. That is quite remarkable.
Observe the year 2009!

The last Bride.
At first I thought that the last Bride has been concluded in 2012, as I had mentioned. However the Lord let me know that is was in November 2009. Notice, the Lord also gave me the month of that year…
November(!) 2009
.
And what to think of the Level

of the Oalim?
The year 2014 I had written correctly
. However the Lord again gave me the month…
November(!) 2014
. The month I did not know before. The year only would have been good enough.
Now that the Lord has given me the months of the Bride and the Oalim, I also understand why the Lord gave me the month August of the Rapture. So you see, the Lord also makes the month known. However the day and the hour we cannot determinate. That is impossible! (Matthew 24:42-44)
Have you noticed the time as well?
From Nov 2009 until Nov 2014 is exactly 5 years. And from Nov 2014 until Aug 2018 is exactly 3,5 years. At this point it will take only 10 months until the Rapture. Seeing this it is quite obvious that the time is ending.
___
(Jesus: "Time is already up!" )
===*===